Our most economically disadvantaged families will struggle greatly in the coming weeks.  These children rely on breakfast and lunch being served at school.  Currently, we have 45 children representing 40 families in the HHH program at CMS.  We will be distributing meals to them in the coming days along with Kroger gift cards. While this will not make up for all of the skipped meals, we hope it will relieve some of the burden. 
Please see the donate button to the left and give as you are able.  In addition, depending upon what the future holds, we would like to do another collection of single serve items (soup, mac and cheese, etc.) so that the kids will have easy lunch items while their parents are at work.  More details on that to come soon.
Thank you for thinking of these kids in the midst of these difficult times. 
---
On February 25, our faithful leader, Dee Braswell was awarded the MLK Humanitarian Award at CMS.  We can think of no one more deserving and several people commented that it was long overdue.  Dee gives tirelessly and cheerfully to others.  We are so happy for her and so proud!  She received at least five nominations.  
---
Souper Jenny has been a tremendous supporter of HHH. Over the years they have donated endless amounts of delicious soups to our HHH families. They have finally opened a location in Roswell, yay! Please go out and support them, they have been a loyal supporter of HHH and we want to return the favor.
---
Thank you to everyone that stopped by our HHH table at CMS's information day. We received many donations of school supplies, snacks and financial donations. One of our goals is to supply our HHH kids with school supplies to help them have a great start to the new school year. HHH will continue to collect individually wrapped snacks. There is a big yellow bin right outside of the CMS front office that you can drop snack donations off.
We also received a wonderful donation of zucchini bread From the CMS Learn and Serve Garden, using zucchini grown this summer. The fabulous Anne Fallon made and donated Chocolate Fudgy Zucchini Loafs (YUM!) for HHH families who came to the CMS Information Day.
THANK YOU to everyone that supports HHH, we truly appreciate you!
---
Thank you to everyone who donated school supplies, snacks, and other goodies to get our school year off to a great start.  We are busy coordinating fall snack drives, food drives, and actively seeking new volunteers.  If you're interested in helping out, please send us an email to see how you can get involved.
Are you interested in getting involved with Huskies Help Huskies (HHH)? We have some open spots to volunteer. We are looking for the following for general volunteers & HHH board positions.
> Treasurer – would like to have a third person to join the team. An incoming 6th grade parent would be ideal to help with transition in the next year.
> Secretary – would take minutes, set up calendar, keep track of email, thank you notes to donors.
> Grants – would like to have a second person to help. 
> Leadership – would like to add co-chairs to events, food drives.
If you are interested in any of these positions, please contact Dee Braswell at deebraswell@bellsouth.net
Thank you! 
---
Many thanks to the RHS Soccer Team for their support of HHH.  Last spring, they collected cleaning supplies and monetary donations for the HHH families.  Thanks to their generosity, we were able to purchase the calculators for the rising 9th graders from CMS. This year's team is collecting fun summer items to be distributed to our HHH families at the end of the year.  THANK YOU RHS Soccer!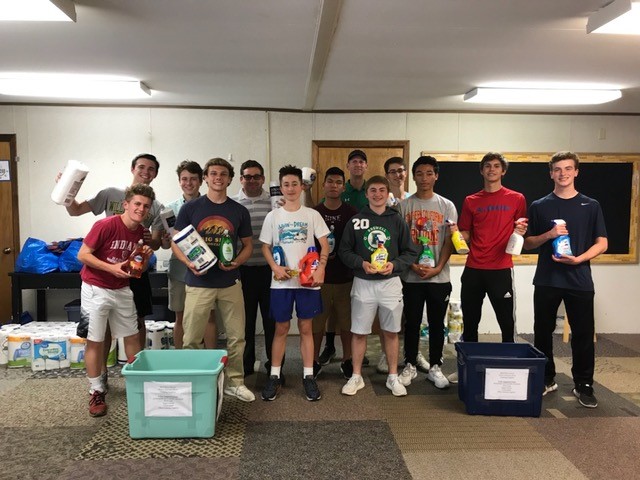 ---
We need assistance from CMS and CMS-affiliated clubs/Scout troops/organizations.
WE CAN MEET OUR COMMITMENTS TO THE STUDENTS AT CMS WITH YOUR HELP! 
Please consider devoting some of your club's efforts to HELPING THOSE IN NEED RIGHT HERE IN OUR CRABAPPLE COMMUNITY?  The flyer below details how your club can make a difference for children at CMS. 
---
Huskies Helping Huskies at Crabapple Middle School was nominated for the 2019 MLK, Jr. Humanitarian Award this year.  Our group of dedicated volunteers commit many hours to HHH and we truly appreciate their efforts for HHH.  Dee Braswell represented HHH at the ceremony and our ever-faithful Linda Porter was awarded for her devotion to helping others.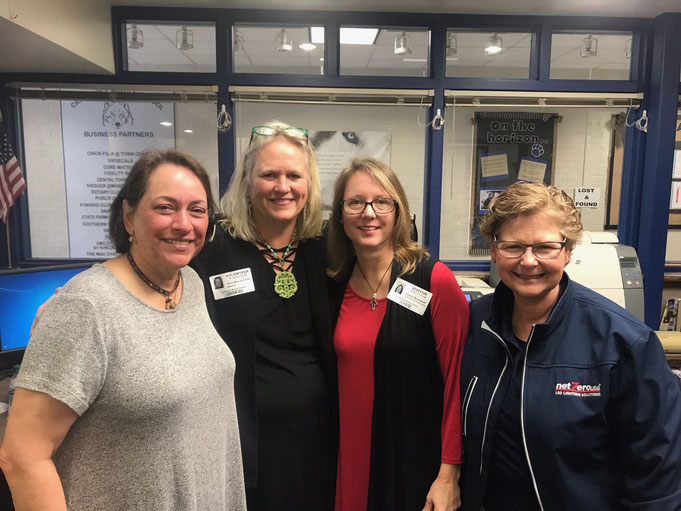 ---
Our annual Holiday Party benefiting the HHH kids was held this December and it was a wonderful event.  Thanks to the generosity of our donors, each child got to shop with a Hero (police or fire personnel) to select items for themselves and their family for the holidays.  They left with bags of groceries, lunch, and special gift cards for the family.  We are so appreciative to the City of Roswell heroes who gave of their time to support HHH!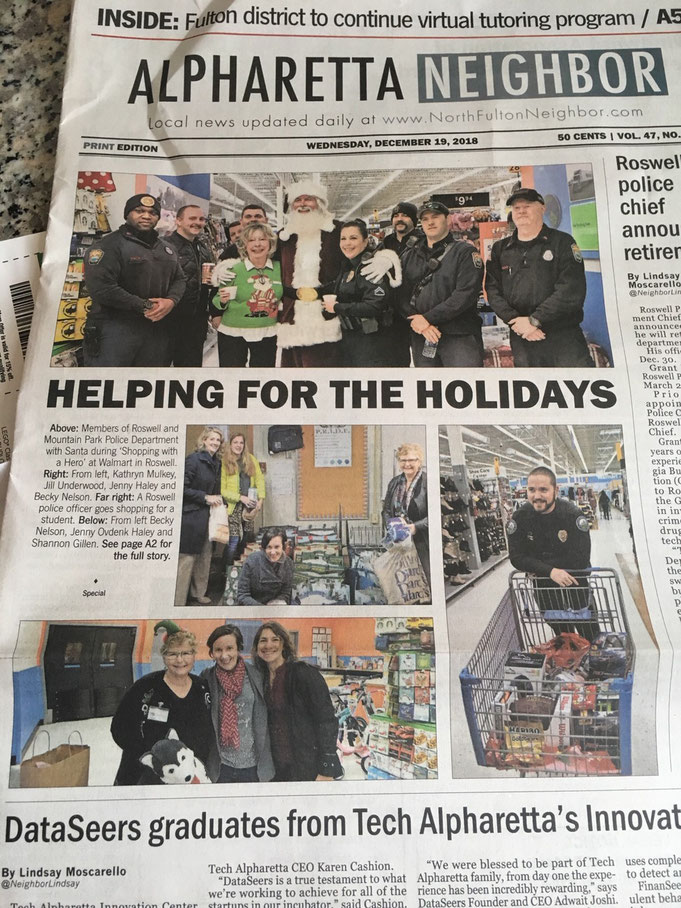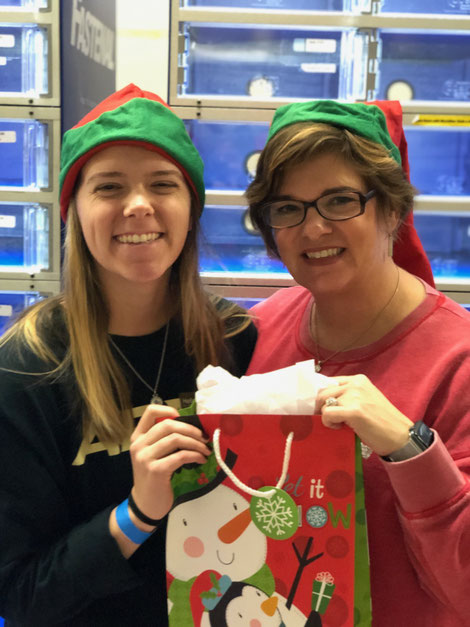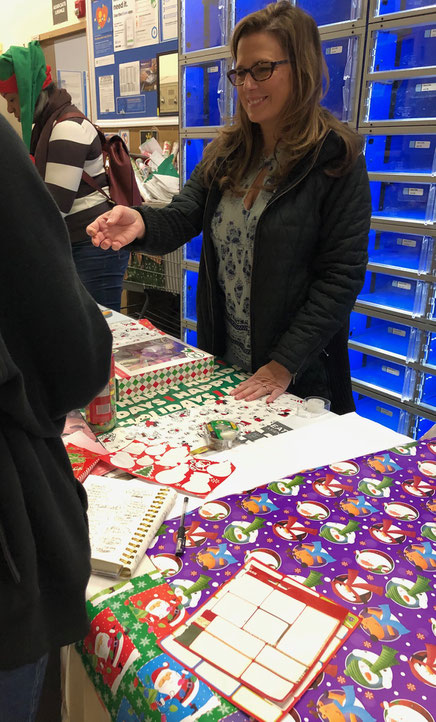 ---
We appreciate all of the snacks & toiletries that been donated and we will continue to collect them. Another way you can help support Huskies Helping Huskies at Crabapple Middle School is financially. HHH is a 501(c)3 nonprofit organization separate from CMS & CMS PTA. HHH's estimated cost to run this program for this year is approximately $12,000. All donations are tax deductible and 100% of your generous support is directed to CMS students in need. If you have a company that will match donations that is even better. Click below to donate:

---
As some of you may know, Huskies Helping Huskies at Crabapple Middle School is very fortunate to receive fresh, nutritious soups from the Souper Jenny restaurant every week for participating HHH families. Last year, we collected the soups each week and stored them in some of our HHH teams personal home freezers. This coming year we anticipate having more HHH family participation and we have been given permission to have a freezer on site at CMS.  Thank you to your generous support, we were able to purchase a new freezer in which to store the soup.  We would like to thank Souper Jenny for their continued support of HHH, check them out at:
http://www.souperjennyatl.com/
And as always we are so thankful for the continued support from our community!
---
Want a quick and easy way to support Huskies Helping Huskies at Crabapple Middle School??? So many people already use Amazon and now you can also donate to HHH through Amazon Smile. Go to https://smile.amazon.com and then search Huskies Helping Huskies Inc and choose us to donate to. We appreciate everyone's continued support!
---
Huskies Helping Huskies at Crabapple Middle School was acknowledged at a recent Roswell Rotary luncheon. Rotary awarded HHH with a grant to continue the work we are doing with HHH. HHH's contributions and efforts are becoming known among community groups and their leaders, this provides us a larger audience and additional supporters. THANK YOU to all of our supporters!